August 7 to September 7, 2011
Carys,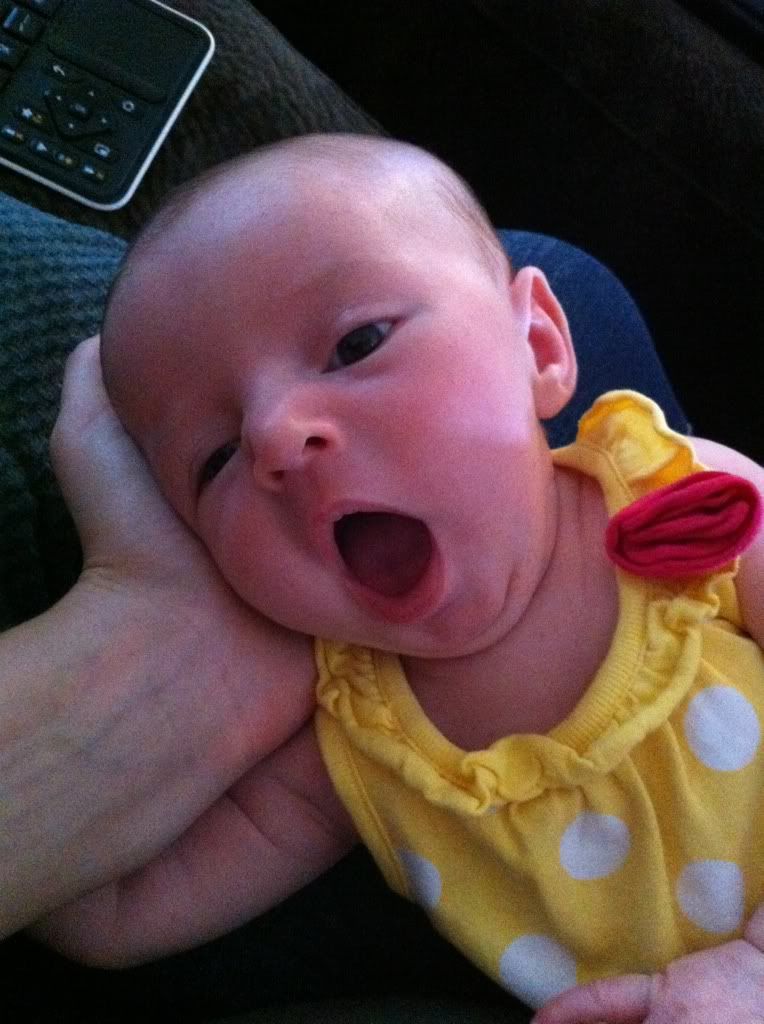 How are you two months old already? At this rate, you'll be in kindergarten next week. I can't believe how time has been flying. That seems a common parenting refrain.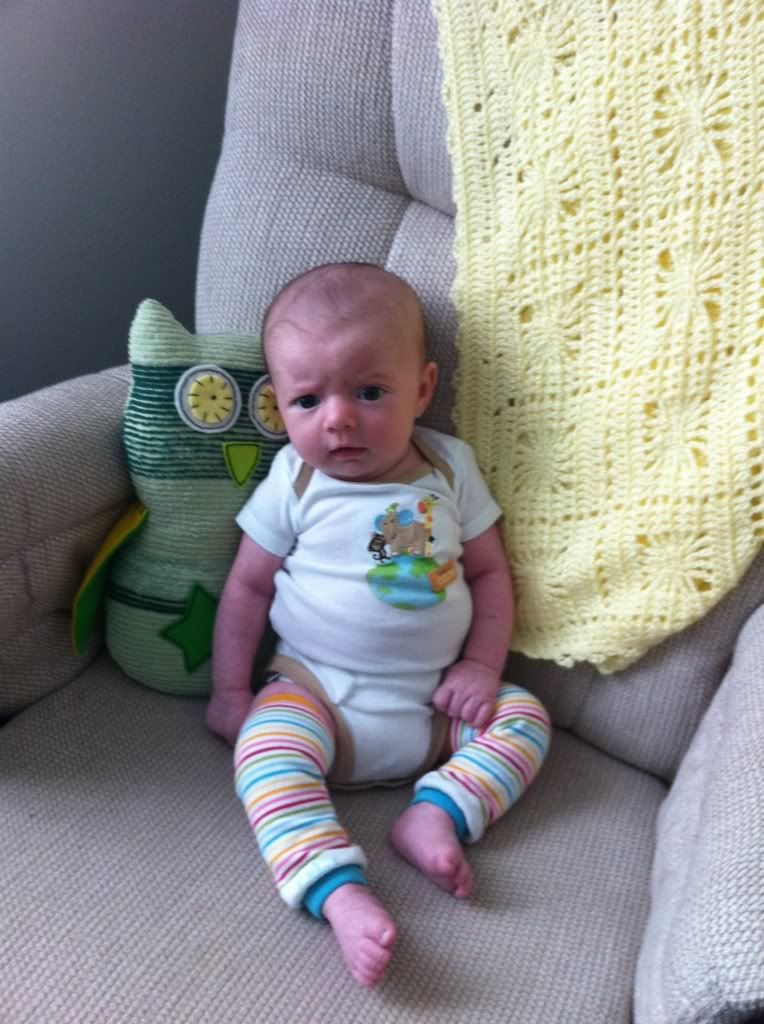 Right now you're sitting next to me, babbling to yourself. That's right, you babble now. I'm not sure if it's on purpose or the sounds coming out of your mouth are surprising you as well as me, but it sure is adorable. Your dad has conversations with you that mostly involve him saying "Dada" over and over, trying to influence your first word (though that won't come for months and will obviously be "mama").
Also new this month? Baby leg chub - you're getting some baby fat, and it's adorable. You also track toys with your eyes, you
really
smile, and you hold your head up.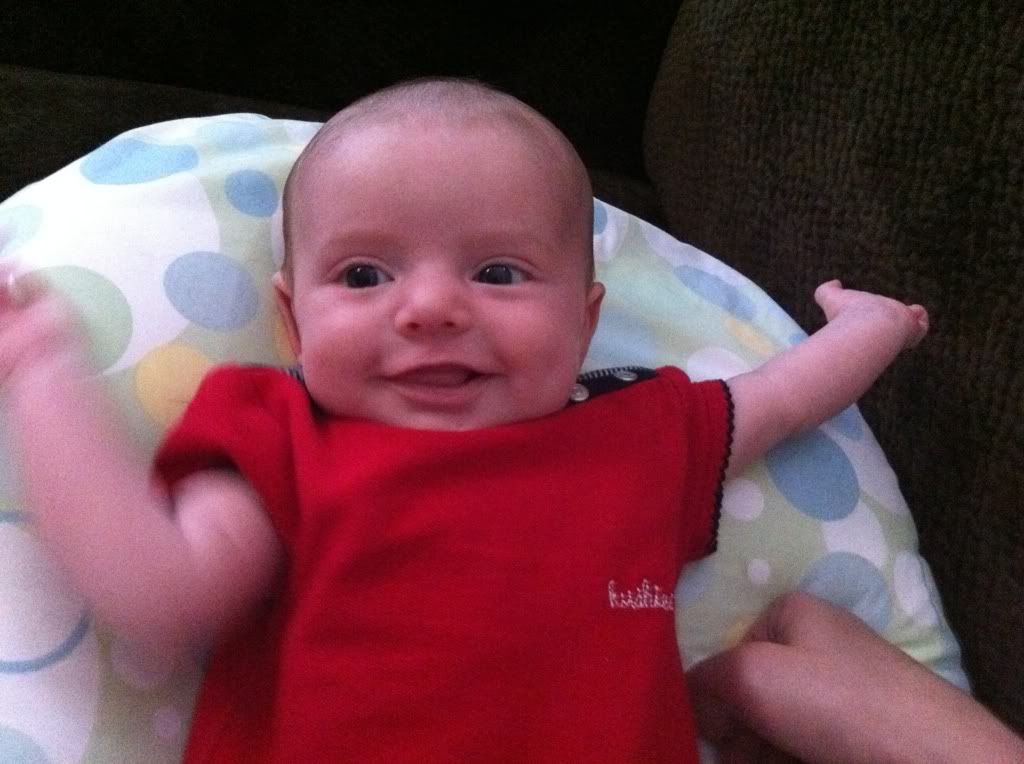 You love standing up and putting your full weight on your legs, a milestone you aren't supposed to reach for another couple months, you overachiever you! In fact, you hate laying down "like a baby" (I imagine you saying). You would much rather be sitting up and looking at something ...anything. Ceiling fans are of particular interest. And when you're not standing, you kick. You love to kick and you may crawl/walk before you master holding up that giant head of yours. You just can't wait to be a part of the world instead of just a passive observer.
You're still such a good baby. If all our children are this good (knock on wood) I may run the risk of pulling a Duggar and having 19 kids and counting. Luckily your dad is only on board for 2.5 (we're debating on #3). It's such a true delight to be around you. You'll sit contentedly by yourself, but you also love charming people with your coos and baby smiles. I still spend way too much time just staring at you and memorizing every little bit that is changing and growing every day. Your eyelashes continue to get darker and longer, which is a relief to me because I love long eyelashes on babies and was a tad disappointed you were born with almost invisible wisps. I probably didn't Google baby fake eyelashes.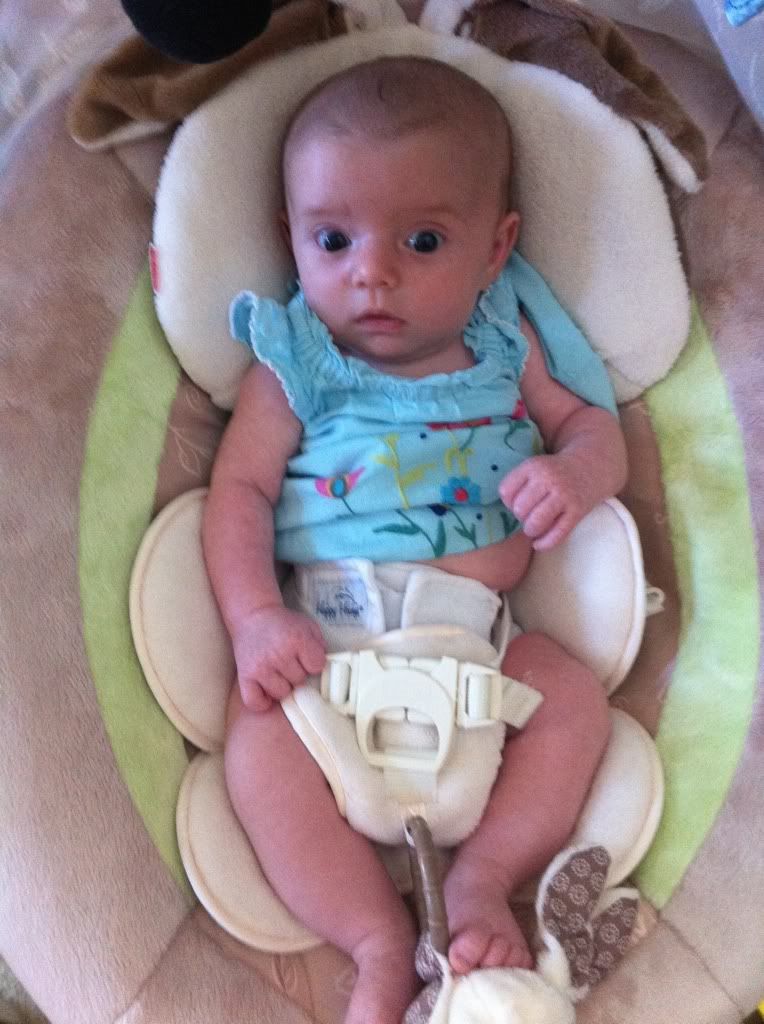 And when you ARE sad (with no warning) you get the biggest sad face with an almost caricature-ish pouty face...and then your cry. Your cry! Most of the time it's one hurt-sounding wail, followed by a minute or two of silence. And you're easily distracted - I can just move your position and delay the next cry for five minutes while you take in your new surroundings. You're the worst crier ever, in that you don't do it nearly loud or long enough, from what I've seen from most other babies. It's almost hard to attend to your needs because the cry is so cute that I want to hear it again.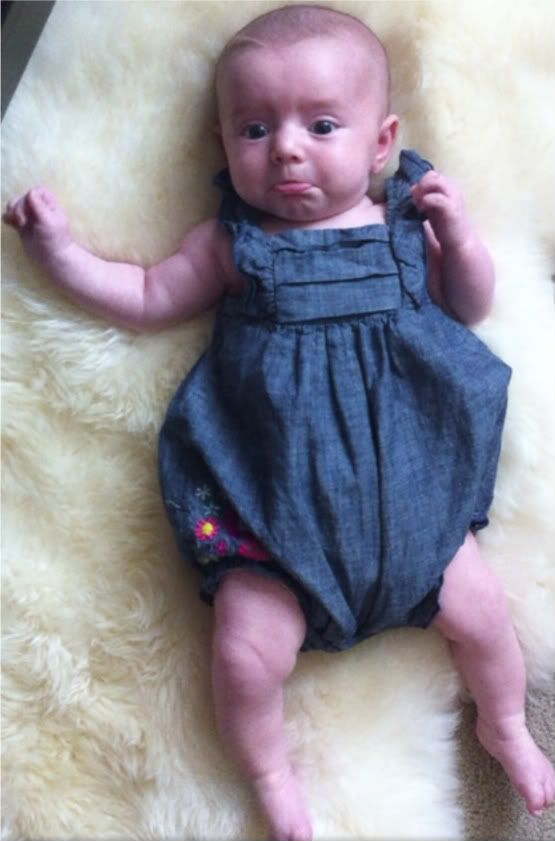 We're still cloth diapering and still nursing and still babywearing, so we're slowly becoming more and more crunchy granola hippies. I still shower, though. Sometimes. Cloth diapering is wonderful and I actually love changing your diaper and picking out which new diaper to put on you. However, you LOVE naked baby time. When the diaper is off, you love to kick kick kick and feel the air. I would probably feel the same if I was in a diaper all day. You also love bath time, probably also because of the naked thing. I hope you grow out of that by the time you're 16, or I'm putting you in a Rapunzel tower.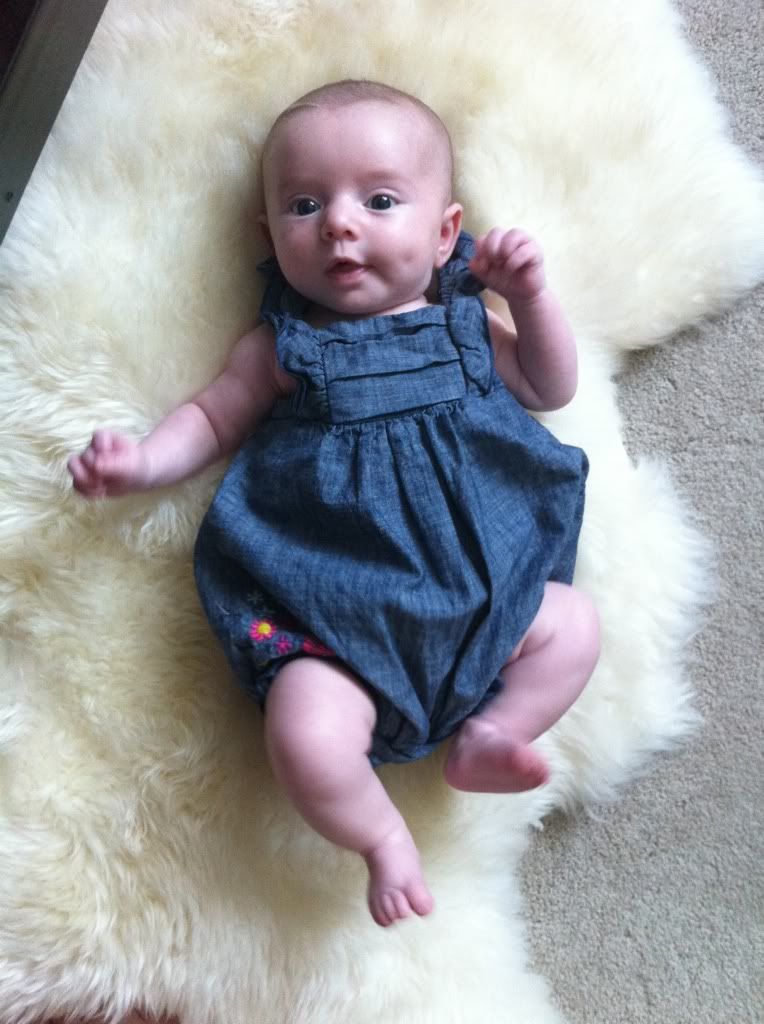 You still aren't sleeping through the night, though I know that can take several more months...or years (pleasedon'ttakeyearsprettyplease). But most nights you do give us a good five hours followed by three more hours. After your 6 or 7am waking, I love keeping you in bed with us, nestled in the crook of my arm, with the heat of your tiny body keeping me warm and your hands brushing against my chest.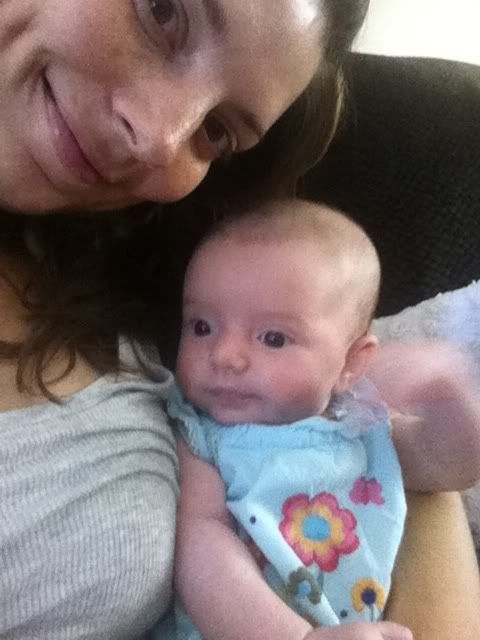 One night a few days ago, you ate and then promptly indoctrinated me into the cult of motherhood for real by projectile puking the contents of your stomach all over me. I guess I should be glad it was all over me and not the bed, since it's much easier to change ME than all the bedding at 4am.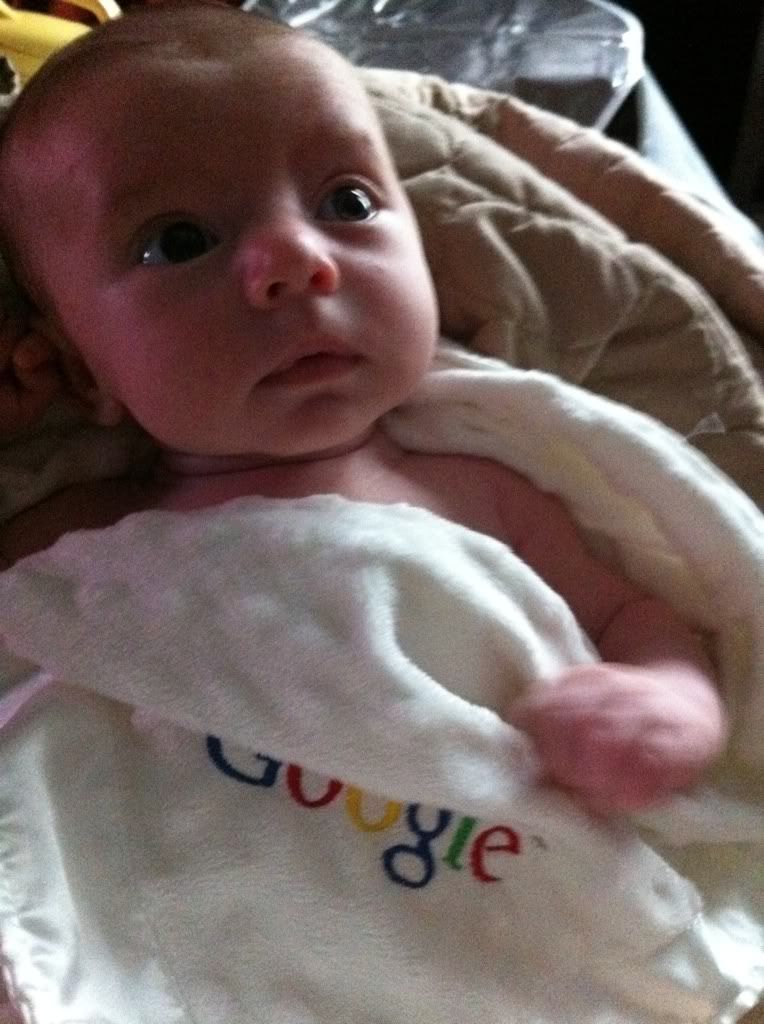 In other firsts, we left you for the first time for real (for more than an hour) to go out for my 31st birthday. Your dad decided that an appropriate celebration would be seeing a concert for a singer who I have much disdain for....Ke$ha. No, darling, you aren't reading that wrong, she does indeed spell her name with a dollar sign. She's THAT classy and original. However, for some reason (namely, his horrible taste in music) your father loves her. So we went. And to no one's surprise (well, not to my surprise) it was a horrible concert. However, the one redeeming quality was that it was SO very bad that it came back around to being entertaining. My aunt Carol watched you for about five hours while we were gone and said you were perfect. There are a dozen people I could call at any moment who are so in love with you they would fight in a cage match for the right to watch you. I had to force myself not to call and check on you multiple times. I also pumped six ounces under my sweater in the middle of the concert. Now that, my dear, is rock star parenting.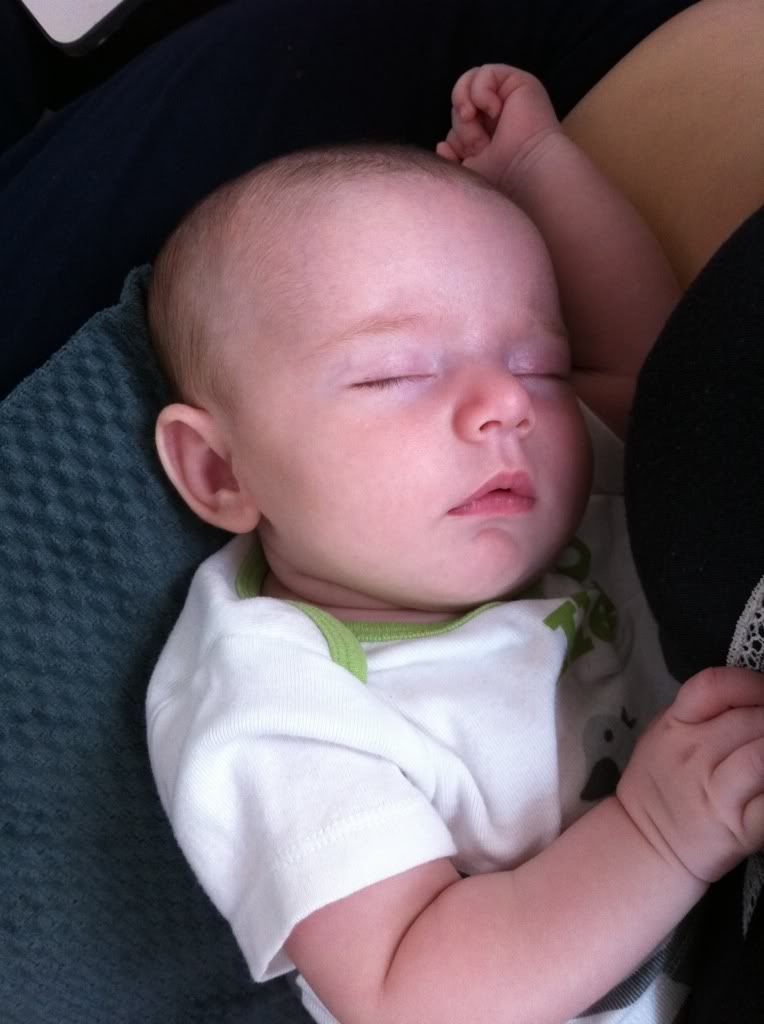 This was our first month with my mom - your amazing grandma - living almost six hours away. I know a lot of people go most of their life living in a different city than their mom, but not me. This is a first. And I hate it. I'm not doing well. I miss her every day. Kimberly and I drove up to surprise her a couple weeks ago, which was your first road trip. You slept most of the time, but I didn't account for the fact that we'd need to stop and feed you and that those feeds would take a good hour...adding two hours onto the trip each way. When we got there, we took a picture in front of the apartment and sent it to mom, and then called her and told her she had to check her email to see an adorable picture of you. Minutes later, she came running out of her apartment with the biggest smile on her face, and it was wonderful to see her so happy. It almost didn't happen that way, since she wasn't answering her phone at first and we thought we were going to have to ruin the surprise. Or that it was going to be some screwball comedy where she had driven to Omaha to surprise us. But that wasn't the case, and the four of us, covering three generations, had a great time just being together again.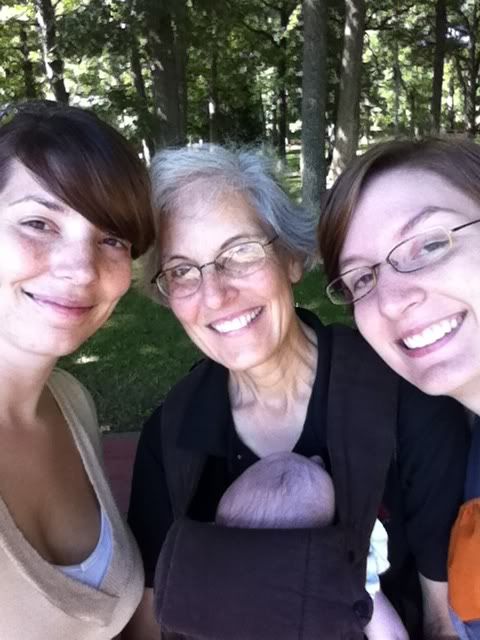 Labor Day brought your first trip to the zoo, and you slept through most of it (though you did love the waterfall in the butterfly pavillion). I can't wait until you're old enough to actually appreciate it. I can't wait until you're old enough to do a lot of things, but at the same time I want you to stay tiny and cuddly forever. When you're too old to snuggle your head in my neck I'll be heartbroken. I hope I never forget that feeling. I hope I never forget a moment of this. I love being your mama.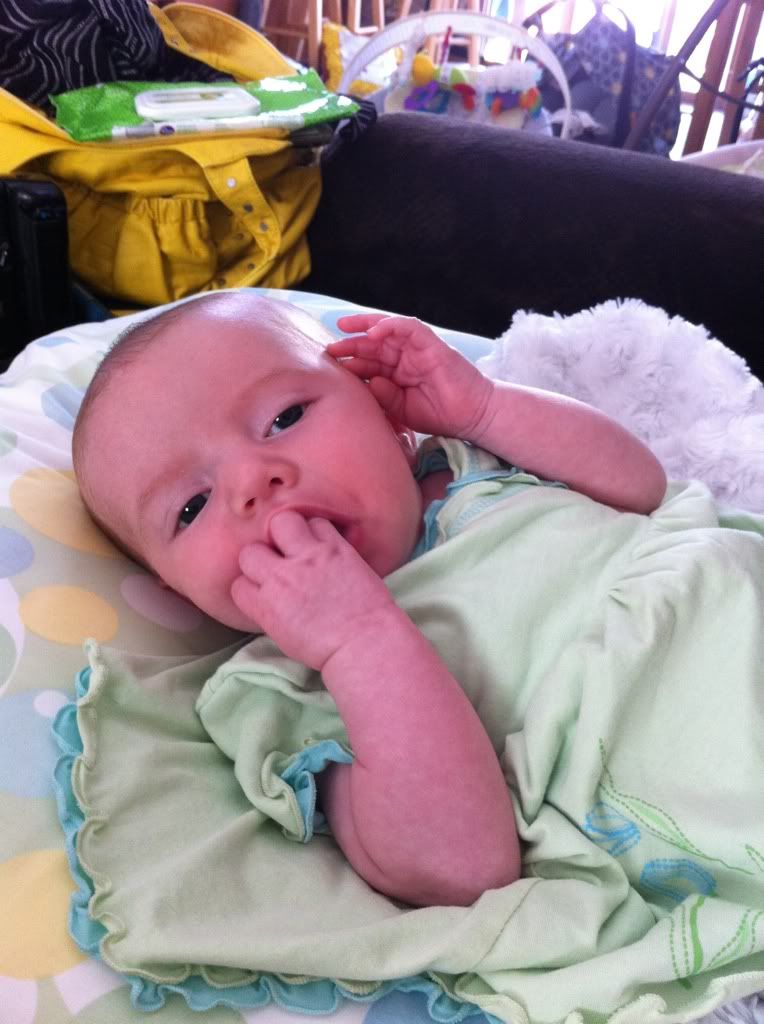 Love,
Mom